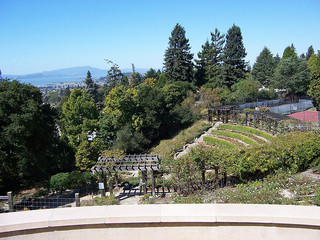 With some of the most dramatic views in the entire Bay Area, a tranquil atmosphere where residents enjoy privacy, and quick access to nature, it's easy to see why homes in the Berkeley Hills are among the most coveted in the East Bay city.
Situated in Berkeley's northeastern corner, the neighborhood is roughly bordered by Kensington (in neighboring Contra Costa County) to the north; Wildcat Canyon and Tilden Regional Parks to the east; the University of California, Berkeley, to the south; and Walnut Street and Arlington Avenue to the west. Due to its location tucked away in the hills, the neighborhood doesn't offer direct access to freeways, which helps to minimize traffic along its steep, winding streets.
AC Transit bus line H provides direct service to downtown San Francisco during peak weekday commute hours and could be an option for residents who live in the western portion of the neighborhood near Arlington Avenue. Additionally, bus lines 65 and 67 connect portions of the Berkeley Hills with the Downtown Berkeley BART station.
When most Bay Area residents think of the Berkeley Hills, phenomenal views are the first thing that springs to mind. Many points in the neighborhood offer panoramic vistas of multiple counties, including the Oakland and San Francisco skylines, the Golden Gate Bridge, Alcatraz Island, and Mount Tamalpais.
Residents and visitors alike can soak in the vistas at Wildcat Canyon Regional Park and Tilden Regional Park, the latter of which is home to nearly 40 miles of hiking and biking trails, an 18-hole public golf course, and Lake Anza, a popular spot for swimming and fishing. Children enjoy riding the park's steam train and Herschell-Spillman Merry-Go-Round, as well as visits to the Little Farm, where they can interact with a variety of animals.
Smaller parks in the neighborhood include Glendale La Loma and Cordonices, both of which have sports fields, basketball courts, and playgrounds. Cragmont Park and Indian Rock Park attract rock climbers of varying skill levels, while the Berkeley Rose Garden explodes to life each spring with more than 250 varieties of the fragrant flower.
Though the Berkeley Hills is almost exclusively a residential neighborhood, several vibrant commercial districts are a short drive away. Solano Avenue, which runs through both Berkeley and neighborhing Albany, is home to dozens of restaurants and shops, while Berkeley's Gourmet Ghetto is famous for its dining scene.
Several architecturally significant homes can be found in the neighborhood, including those designed by prominent Bay Area architect Bernard Maybeck. Some newer homes in the Berkeley Hills can be quite large, and many – particularly those at higher elevations – offer sweeping views.
According to MLS data, the median sales price for a single-family home in the Berkeley Hills was $1.16 million in February, a year-over-year increase of 16 percent. As in other popular East Bay neighborhoods, overbids have been commonplace in the Berkeley Hills over the past two years, with the average home selling for more than the original price in all but three months. In February, successful buyers paid an average of nearly 15 percent above original price.
(Photo: Flickr/Wayne Hsieh)