U.S. pending home sales dropped to their lowest level since January 2015 in September.
California pending sales declined for the third straight month on an annual basis, while Bay Area pending sales are now on a yearlong slide.
About two-thirds of California homes that sold in September received multiple offers.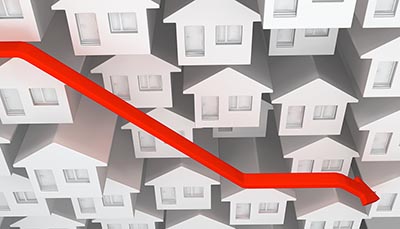 Inventory shortages once again caused Bay Area pending home sales to drop in September, a trend that also played out in California and the U.S.
The National Association of Realtors' latest Pending Home Sales Index ended September at 106, down 3.5 percent year over year and the lowest since January 2015. U.S. pending sales have dropped for five of the past six months, which NAR Chief Economist Lawrence Yun attributes to an inadequate number of homes on the market.
"Demand exceeds supply in most markets, which is keeping price growth high and essentially eliminating any savings buyers would realize from the decline in mortgage rates from earlier this year," he said, adding that inventory should further shrink as the holidays approach.
California home shoppers are no stranger to exceptionally tight inventory conditions, which caused pending sales to slide year over year for the third straight month. The California Association of Realtors' Pending Home Sales Index was 120.0 in September, down 6.0 percent on an annual basis but up 2.5 percent from August.
Pending home sales dropped by 10.8 percent across the nine-county Bay Area from September of 2016, the 12th consecutive month of year-over-year declines. Activity was down by 23.5 percent in Santa Clara County, the largest drop of any county for which CAR tracks data, followed by San Mateo County, which saw pending sales decrease by 22.4 percent. San Francisco was the only county in the report where pending sales improved, an annual gain of 2.8 percent.
The state's supply-and-demand imbalance ensures that California's real estate market remains exceptionally competitive, with 63 percent of properties receiving multiple offers in September. Homes that sold for more than asking price commanded average premiums of 13 percent, up from 8 percent one year ago.
The Bay Area's housing market is equally competitive this fall, with 68 percent of homes selling for premiums in September, according to a recent analysis by Pacific Union Chief Economist Selma Hepp. Bay Area homebuyers paid average premiums of 13 percent last month, ranging from 6 percent in Contra Costa and Napa counties to 19 percent in San Francisco.
(Image: iStock/higyou)