Home is now more meaningful than ever. Home is a sanctuary, it's where we find refuge, comfort, and our loved ones. And now it's also the office, the gym, a school, playground, and more. From Los Angeles to the Bay Area, our agents are adapting their business to serve their clients like never before — from within their own homes. In this series, we take a closer look at a day in the life of our extraordinary Compass agents in the place they know best.
---
Q + A with Compass agent Nick Cooper
Where's home for you?
NOPA in San Francisco. It's great to be near so many parks and easily walkable essential businesses.
What hats are you wearing at home these days? (Example: real estate agent, parent, teacher, yogi, chef de cuisine, etc.)
Real estate agent, dog walker, FaceTime entertainer for my niece and nephew (much appreciated by my sister and brother-in-law), and President of the Board of Directors for Home For A Home.
How did the idea for Home for a Home come about?
When I was in high school, I took spring break trips with other students to build houses for families in Mexico. After college, I started a real estate career, which was fruitful but ultimately I felt a lack of purpose. I wanted to find a way to use my career to have a positive impact on the world. As I was thinking of ways to bring more purpose into my career, I kept thinking about the time I spent in Mexico and the great need for adequate housing in the world. I thought of connecting the industry I was in with that need and that's where the idea for Home For A Home ultimately came from. I brought the idea to real estate agents, and the majority of the time, it resonated and the organization grew and grew.
Let's talk more about Guatemala — why did you choose this country?
Guatemala's need for adequate housing is the most extreme in the Western hemisphere. People have homes made out of corn stalks or scrap metal, with dirt floors. They can't keep people who would harm them out. In addition, the country has the third-highest rate of violence against women in the world. The psychological benefit of having a solid house with a door that locks can't be overstated. Many of the families we work with are indigenous. Spanish is not their first language, so we make sure they have help with the complicated paperwork that ensures they have the title to their land.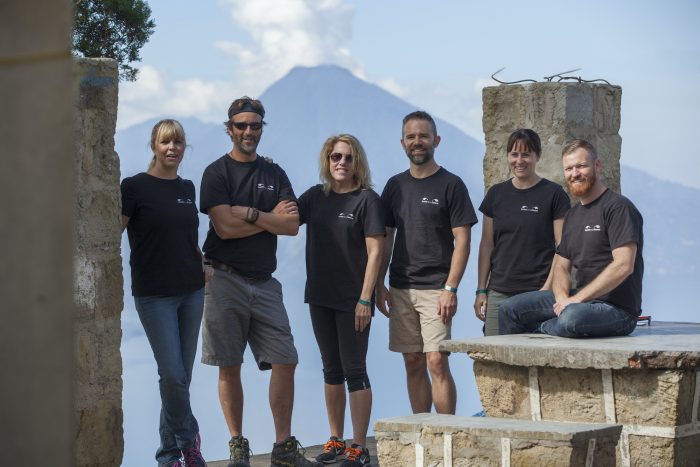 What can real estate professionals gain from participating?
It brings depth to their work. Their transactions don't just help their income and clients, they can find meaning in changing people's lives. Members are encouraged to share photos of the participants in front of their new homes with their clients. The message is: "Because you worked with me on the purchase of your home, I was able to help this family with theirs." We also arrange an annual trip to Guatemala where members can meet the families. It all comes together authentically and tangibly. It's also a way to differentiate themselves. Studies show that consumers want to work with socially conscious businesses.
What would you like the world to know about Home For a Home?
Home for a home is about giving people the ability to pursue their dreams and live the life they want. Studies show that a solid home can greatly improve one's mental and physical health. Imagine not being able to close your windows against rain, to lock your door before going to bed, or to put your baby on a clean floor. We want to ensure that everyone has a home where they feel safe and secure. And with our unique funding model, we empower our members to give greater purpose to their careers.
---
Tell us about a recent deal or client service. How did you/your clients overcome obstacles? What was the outcome?
Due to a sudden job change, my clients had to quickly move to Texas. My team managed a full preparation of their property, including a bathroom remodel, and got them a great offer over list price. We were thrilled to be able to successfully manage the entire listing process for them while they were out of state.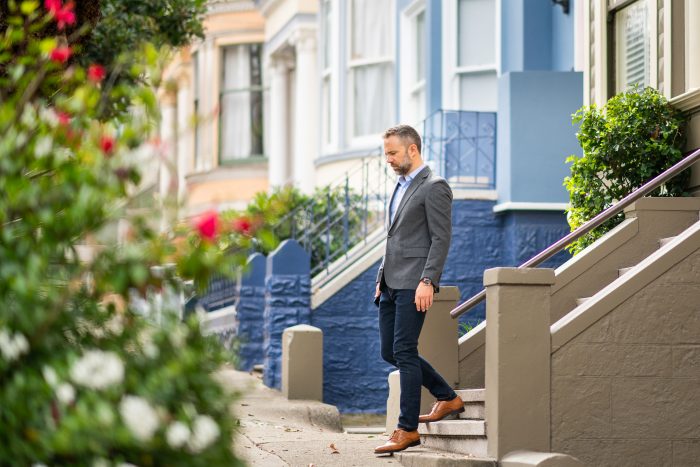 What is your favorite feature of your own home?
I'm going to have to say it's the location. I don't have a yard, so being able to take my dog for a walk in Alamo Square, Alta Plaza or a longer hike in the Presidio has helped me keep my sanity and my fitness.
Have you redecorated or undertaken any DIY projects under SIP?
The main project I've undertaken during SIP is learning to cook more. Like so many, I've been doing a CSA / local produce delivery and have been focused on learning how to cook all sorts of different produce, which has been really fun.
What is the one room you can't live without?
My kitchen. I love to cook! It has become the hub of my home and my main office. When I'm not working, you will find me trying a new recipe, cooking an old favorite or doing a Zoom cooking class with friends.
Do you have a favorite architectural style?
For suburban / country living I love a classic California ranch style home. Within San Francisco, I love an Edwardian flat.
What local business are you supporting during SIP?
My favorite restaurant during SIP has been Che Fico Alimentari. They have a nice outdoor dining space and their pizza is unlike anything I've ever had. So good!
How did you find your way to your career in real estate? Why do you stay?
Relationships with other agents and clients have been at the core of my business. The turning point in my career is when I founded Home For A Home as a way to use my growing success to give back and change lives. It brought a new level of meaning to my career. Being able to help my clients find their dream homes here and having that contribute to providing a safe solid home for families in Guatemala keeps me motivated. An added bonus has been an incredible community that has come out of Home For A Home that I could not have imagined.
What trends have you noticed among SIP homebuyers? What is the most wished for home feature?
Everyone wants space for an office and many buyers want space for a Peloton / home gym.
To learn more about becoming a member of Home for a Home, visit their website here.