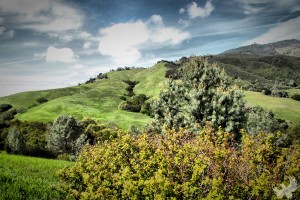 Named after a famous racehorse, the upscale Contra Costa County community of Blackhawk galloped into the spotlight in the 1970s.
Neighbors initially fought the 2,500-home gated community in a public battle dubbed "the Blackhawk Wars," but the project moved forward in the late 1970s after developer Ken Behring scaled back his plans. Today the development of 9,400 residents features two clubhouses, a pair of golf courses, 20 tennis courts, and two swimming pools.
"Blackhawk is very kid-oriented – the community has a huge Halloween event and a swim team," said Ellen Anderson, a senior vice president and regional manager for Pacific Union International's Contra Costa County offices. "It's a family-focused, gated community with golf courses and a country club."
Six individual communities comprise Blackhawk, offering a variety of settings, all with fantastic views and access to amenities. They are: Hidden Oaks, Oakridge, Saddleback, Silver Maple, the Blackhawk Country Club, and condominium development Silver Oak.
Students attend the highly ranked San Ramon Valley Unified School District, which received an overall state Academic Performance Index score of 927 out of 1,000 in 2012. Nearby private schools include the Athenian School and St. Isidore School in Danville.
The community also boasts its own shopping center, Blackhawk Plaza, with a seven-screen movie theater, Anthropologie store, Draeger's Market, and Blackhawk Grille restaurant. The Blackhawk Museum, formerly called the Behring Auto Museum, focuses on one-of-a-kind automobiles and attracts car lovers to the area.
Because numerous builders participated in the development, Blackhawk homes for sale vary in style and range significantly in price from about $800,000 to as much as $20 million, Anderson said.
In October the median sale price for a single-family Blackhawk home increased 8 percent to $1.08 million, up from $1 million a year earlier, according to MLS data. The number of homes for sale fell 2.5 percent in the same period, and those under contract increased 17 percent.
Homes tend to turn over more frequently in Blackhawk compared with nearby Diablo, where just 21 properties sold between October 2011 and October 2012. During the same 12 months, 67 single-family homes sold in Blackhawk.
A number of celebrities and sports luminaries have called Blackhawk home, including Cal Bears head coach Jeff Tedford, who listed his five-bedroom home for $5.35 million earlier this year.
"Blackhawk has a variety of housing," Anderson said. "It has townhouses, and it has huge houses, and everything in between."
(Photo of Blackhawk by Hamid Mohseni, via Flickr.)