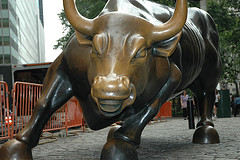 Over the past few weeks I have read two stimulating articles in the New York Times: "Wall Street is Bracing for Dismal 4th Quarter" and "The Dawn of Lower Pay on Wall Street." The articles describe both the earnings challenges at the largest American investment banks and the demise of cash bonuses for their investment bankers.
In the go-go years of residential real estate, pre-2007, we always anticipated the "spring selling season," which was positively impacted by three then- consistent, cyclical, and seasonal phenomena:
> Seemingly flush, motivated buyers with recent bonuses in hand
> Private-school admission letters, which were generally mailed to families around March 15th
> Changes in weather patterns and a climate conducive to touring open homes
My, how it has all changed! Even the weather patterns last year and this year have cooperated to deliver improved selling seasons in Q1.
I sent both of the articles referenced above to a contact of mine at the Center for Continuing Study of the California Economy. I asked him, "Do you have any data that might suggest how poor earnings of the investment banks and the capped bonuses of the investment bankers impact the luxury goods and real estate markets in the San Francisco Bay Area?"
His response was fairly simple and as follows: "No data. I would think the Apple, Google, Facebook etc. income gains would swamp any losses in the finance sector in the Bay Area."
It is very important to remind our sellers that the both the buyer demographics and the traditional selling season in our markets have, in fact, changed – and for the most part, our markets are supply-constrained. We have more motivated buyers than we do properly improved, located and priced properties for sale.
As an overview, the table below illustrates current inventory (units) of properties "for sale" compared to 24 weeks ago (August 7, 2011).
| | | |
| --- | --- | --- |
| County | Below $1 million | Above $1 million |
| Alameda | -24.6% | -2.5% |
| Contra Costa | -26.5% | -32.4% |
| Marin | -31.1% | -31.6% |
| Napa | -18.4% | -25.5% |
| San Francisco | -32.5% | -24.6% |
| Sonoma | -25.9% | +8.2% |
It's important to educate sellers with similar hyper-local trends and statistics for both supply (listings) and demand (buyers). While it is difficult for us to precisely anticipate exactly where a buyer will come from, we certainly know they are active (many properties are trading in multiple offer situations), and fresh inventory will receive endless attention.
2012 is off to a vibrant start. It's time for sellers to act now in this limited-supply market, versus waiting for the spring season where listings (their competition) could be up as much as 35 percent.