Just 24 miles from San Francisco, Lafayette is the perfect blend of urban and community. It's a slice of family paradise, where children can explore, ride bikes to neighborhood pools, safely shop downtown and play sports on pristine fields. Low on density, high on greenery, Lafayette offers Mediterranean weather, excellent schools, and an easy commute to San Francisco thanks to the BART station in the town center.
I was born and raised in Lafayette and continue to call it home with my husband and children.  Here is what I know about Lafayette: We often land here for our kids but secretly stay for ourselves. It helps that Lafayette has excellent dining, shopping, a community theater, bike trails, the Lafayette Reservoir recreation area and the Lafayette Library and Learning Center.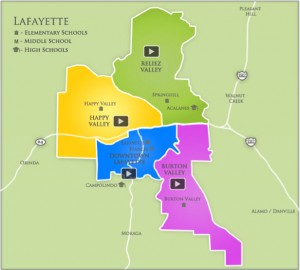 Housing options differ widely. Each of Lafayette's many neighborhoods has its own personality. The differences can be both subtle and obvious. The best way to begin to learn about Lafayette is to divide it into four quadrants that can be easily identified by Lafayette's four award-winning public elementary schools. A car tour is always preferable, but newcomers will gain quick insight by watching these neighborhood videos:
Happy Valley Elementary serves possibly the most prestigious neighborhoods in Lafayette, offering the largest selection of custom estate homes, but also some traditional neighborhoods options.
Springhill Elementary /Reliez Valley is considered Lafayette's most rural area, offering everything from larger traditional family neighborhoods, small courts off main roads and original farmhouses to Lafayette's largest gated community.
Downtown Lafayette, served by Lafayette Elementary, offers the most diversified housing options in town, from large custom homes to more modest ones, as well as condos and apartments.
Burton Valley Elementary, the largest of the elementary schools, serves Lafayette's more traditional suburban neighborhoods. California ranch homes prevail, but the big draw for newcomers is a more traditional neighborhood lifestyle.
A town of nearly 25,000 residents, Lafayette gathers as a community at annual events like the Lafayette Art & Wine Festival and Lafayette Reservoir Run, and are friendly competitors at the Lafayette City Swim Meet.
If you are considering moving to the East Bay, I encourage you to explore Lafayette for yourself. You may just find that you agree – it's the perfect place to call home.
Life in Lafayette, California – Discover the Pride of Lafayette with Realtor Dana Green from Dana Green Team on Vimeo.