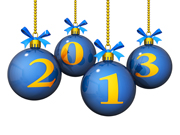 The new year is just three weeks away, and with it come all sorts of questions and uncertainties about the housing market in 2013.
Will the recent recovery take hold, or will the U.S. economy fall off a fiscal cliff? When will home prices return to their pre-recession highs? Where are mortgage rates headed? Ultimately, will 2013 be a good time to sell a home or to buy one?
A recent report in The Fiscal Times took note of the housing recovery and a growing optimism among homeowners and homebuyers. It quizzed real estate economists and reviewed industry surveys to develop a list of the top 10 real estate trends to watch in 2013. Here's a sampling of the predictions:
HOME PRICES CLIMB HIGHER: New-home construction is far short of its pre-recession pace, failing to keep up with population growth or the rebounding housing market and thereby helping to push home prices higher. The National Association of Realtors forecasts average home prices to rise 5 percent next year.
MORE HOUSEHOLDS, RISING RENTS: Millions of young people who rode out the recession by moving back home with their parents are now getting jobs and looking for their own apartments. The pent-up demand for rentals is twice as big in percentage terms as the country has ever seen. Average rents have been rising in many metro areas by 7 to 9 percent a year, and a recent Zillow analysis found that buying beats renting in 59 percent of markets after three years or less.
EASIER CREDIT STANDARDS: Would-be borrowers now need a FICO credit score in the 760s to get a mortgage, much higher even than in the years before the easy-credit housing boom began, according to the Federal Housing Finance Agency. That should start changing next year — qualifying scores will drop as more qualified buyers come into the market and lenders compete to offer them loans, according to Luis Vergara of Mission Capital Advisors in New York City.
Other trends include fewer opportunities to buy bargain-priced foreclosures, a rising number of short sales, more first-time buyers, higher construction costs, new jobs for property managers, higher mortgage rates, and consolidation in the home-building industry.
For a closer look at the list of real estate trends in 2013, check out the report in The Fiscal Times.
(Illustration of New Year's ornaments courtesy of One Way Stock, via Flickr.)