Here's a look at recent news of interest to homebuyers, home sellers, and the home-curious:
HOMEOWNERSHIP COST CHIEF CONCERN IN SAN FRANCISCO
For the past two years, the always-hot-button issue of homelessness topped San Franciscans' list of concerns. But in 2014, city denizens point to the cost of home ownership as their first and foremost worry.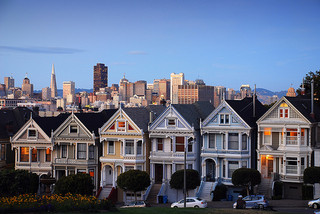 SFGate reports that a survey conducted by the San Francisco Chamber of Commerce found that 34 percent of residents think housing affordability is the most important issue the city faces, up from 20 percent in 2013. Along the same lines, skyrocketing rental costs are the No. 2 concern, with 21 percent of respondents noting it as a concern.
As our region's robust economic recovery continues, San Francisco residents are less worried about job growth this year than last: 18 percent now cite it as an issue, down from 23 percent in 2013.
---
HALF OF BAY AREA BUYERS PAY MORE THAN LIST PRICE
Buyers in the San Francisco and San Jose metropolitan areas were more than twice as likely to pay over asking price than those in other parts of the country, according to research from Redfin.
In January, 53.3 percent of houses in San Jose sold for above asking price, while exactly 50 percent of San Francisco sales involved overbids. Across the 22 U.S. regions included in Redfin's study, 22 percent of homes sold for more than list price in January.
Redfin also found that bidding wars became more common in the first month of the year. The company says that 58.1 percent of offers written by its agents faced competition, up 5.3 percentage points from December. Still, the report notes that the market is not quite as hectic as it was at one point last year, when 70.4 percent of buyers faced bidding wars.
---
HOME INVENTORY: UP NATIONALLY BUT DOWN LOCALLY
Home inventory across the U.S. was up 11.1 percent year over year in January, according to Zillow's January Real Estate Market Reports. The increased options for buyers helped slow price appreciation to 0.2 percent from December, the smallest monthly increase since May 2012.
Meanwhile, inventory shrank in two Bay Area metro regions. In San Jose, inventory was down 5.9 percent from the previous January; in San Francisco, the number of available homes for sale declined 1.8 percent.
Zillow's January Home Value Index ranked homes in the San Jose region as most valuable in the country at nearly $745,000, a month-over-month increase of 0.2 percent. The San Francisco area was not far behind, with an average home value of more than $642,000, up 0.4 percent from December.
---
CALIFORNIA FORECLOSURE STARTS SPIKE IN JANUARY
Foreclosure starts rose across the country in the first month of 2014, and in California, activity was particularly busy.
RealtyTrac's U.S. Foreclosure Market Report shows that U.S. foreclosure activity increased 8 percent from December to January, the largest monthly increase in almost two years. On the bright side, foreclosures are still down 18 percent year over year and have declined annually for 40 straight months.
California was one of 22 states where January foreclosure starts grew on a year-over-year basis. The Golden State had the fourth highest yearly foreclosure-start jump in the country: 57 percent. January marked the first month that foreclosures increased in California after 17 consecutive months of decline.
(Image: Flickr/Phil Gibbs)