Here's a look at recent news of interest to homebuyers, home sellers, and the home-curious:
SOME BAY AREA BUYERS TEARING DOWN OLD HOMES, BUILDING ANEW
Rebuilding is becoming the new remodeling for some affluent homebuyers in the Bay Area — especially in Silicon Valley — according to a recent article in the San Jose Mercury News.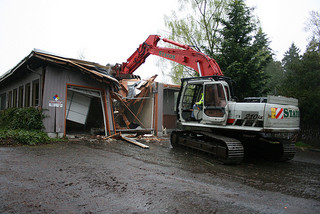 The reason? Many owners are finding that it doesn't cost a whole lot more to tear down an aging, outdated home in a coveted neighborhood and rebuild a much larger, modern house on the lot. And with the brisk pace of Bay Area home-price appreciation, some investors are leveraging this strategy to turn a quick profit.
"We're wrecking 3,000-square-foot houses and erecting 14,000-foot houses," the article quotes an employee of a Woodside demolition firm as saying.
According to the Mercury News, this trend has seen a noticeable uptick in San Mateo, Santa Clara, and Contra Costa County communities. However, the article notes that Palo Alto may be ground zero for the tear-down movement: Over the past three years, between 50 and 100 old homes in the city have been destroyed so that owners could build new ones.
---
AMERICANS EXPRESS BOTH OPTIMISM, PESSIMISM IN HOUSING MARKET
While Americans showed increasing confidence in home price growth in Fannie Mae's February 2014 National Housing Survey, rising mortgage rates and the overall economy are still causes for concern.
"Similar to the noisy economic and housing data published over the past few months, we've seen a corresponding increase in volatility in our survey results," Doug Duncan, senior vice president and chief economist at Fannie Mae, said in a statement.
Fifty percent of survey respondents think that home prices will increase over the next year, a gain of 7 percent from January. The number of Americans who believe now is a good time to buy a house also increased from last month and now stands at 68 percent.
But after reaching an all-time high in January, the quantity of participants who feel it would be easy to get a mortgage dropped by 7 percent in February. And Americans are increasingly worried about the health of the country's economy, with 57 percent stating that the recovery is on the wrong track.
---
SOUTH BEACH BLAZE ANOTHER SETBACK FOR SAN FRANCISCO HOUSING SHORTAGE
A large fire gutted an under-construction apartment complex in San Francisco's South Beach neighborhood last week, the latest obstacle for a city struggling with a scarcity of housing.
According to SFGate, flames from nearby welding work may have ignited the Fourth Street blaze, which destroyed nearly half of a planned 360-unit luxury apartment building. Initially scheduled to open later this year, the six-story building cost an estimated $272 million to construct.
Despite the disaster, city officials quoted in the story say construction on the building will resume after fire-insurance affairs are resolved.
(Image: Flickr/Washington State Department of Transportation)