In today's competitive real estate market, about one-third of U.S. homebuyers say that they would bid above asking price in order to acquire the home of their dreams, according to a recent survey by Trulia and Harris Interactive. But in some parts of the Bay Area, actually paying more than list price – in some cases a lot more – is already a foregone conclusion.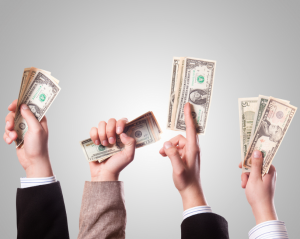 In a blog post, Trulia Chief Economist Jed Kolko cites factors such as a lack of inventory and multiple offers as reasons that buyers are willing to make higher offers. But that's not all homebuyers will do in order to score that perfect property; 25 percent would pay the seller's closing costs, while 17 percent would pen a so-called "love letter" to the owner, according to the survey.
In certain regions of Bay Area, above-list sales prices have been the norm for the past year. In June, single-family homes in our East Bay region sold for an average of 7 percent above list price, according to MLS data. Prices in the East Bay topped out at 13.6 percent above list in May, but at no point in the past year did the average sales price ever drop below list.
The situation is similar in San Francisco, where both single-family homes and condos are leaving the market at their highest sales-to-list price ratios in the past year. In June, single-family homes in the city sold for an average of 10.5 percent more than list price, while condos commanded nearly 7 percent above list.
Buyers in San Francisco, in fact, should plan to pay above-list prices far more often than not in order to compete. In the second quarter of 2013, 566 of 725 single-family homes sold in the city – or a staggering 78 percent – went for more than they initially listed for.
In a few select cases, buyers resorted to hefty overbids in order to get the job done; eight San Francisco homes during the quarter sold for 50 percent or more than list price. In the two most extreme examples of this trend, buyers piled 65 percent extra on top of what the seller was initially asking.
Patrick Barber, president of Pacific Union's San Francisco region, said that in such a competitive market where many properties receive up to 10 offers, buyers who can overbid right out of the gate will be at an advantage.
"You want to play to win," said Barber. "Go in with your highest or near-highest offer."
However, Barber stated that potential buyers should choose to overbid on a case-by-case basis, noting that properties that require work will have a smaller buyer pool and less potential for a drawn-out bidding war.
Paying more than they bargained for isn't the only concern plaguing U.S. buyers, according to the Trulia/Harris survey. In so-called "hot" markets, including Oakland, 45 percent of respondents worry that interest rates will rise before they can get a foot in the door. Rising home prices bother 42 percent of those surveyed, while 33 percent cite competition from other buyers as a chief concern.
(Image: Flickr/401(K) 2013.)