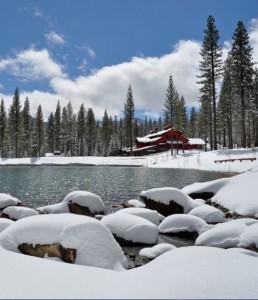 Martis Camp is one of the newer residential developments in the Tahoe/Truckee area, selling its first lots in 2006. Already the development has made a name for itself as a premier golf and ski community with family-focused luxury amenities.
Martis Camp is a private, gated community on 2,177 acres of pristine Sierra forest in the Martis Valley, midway between the north shore of Lake Tahoe and downtown Truckee.
Development is capped at 653 lots, and more than 400 have sold so far. Homes are custom-built to suit their owners, but all have a rugged mountain look, whether traditional or modern, employing rough stone and natural timbers.
The Tom Fazio-designed golf course opened in 2008 and was an immediate sensation. Golf Digest ranked it the third-best new private course in the country in 2009, and Forbes named it one of the 12 best private golf communities in America.
The community adjoins the Northstar California ski resort, and Martis Camp club members have direct access to Northstar via a private, door-to-door shuttle that takes them to a new, 8,000-square-foot members ski lodge and express ski lift.
There are two club memberships available for property owners at Martis Camp. The "social" membership comes with the purchase of a developer lot plus yearly dues of $8,500, giving members full access to all amenities and two opportunities a month to play golf.
The "golf" membership costs $15,000 a year on top of a $120,000 initiation fee, giving members full access to all amenities and unlimited use of the golf course. Property owners also pay monthly homeowner association dues of $250.
In addition to golf and skiing, amenities include:
A luxurious lodge, complete with restaurants, fitness center, locker rooms, day spa, and outdoor terraces;
The Family Barn, containing a performance stage, rec room, bowling alley, movie theater, community games area, and outdoor swimming pool;
A library cottage with books, games, and coffee;
Classes at the on-site Folk School;
Basketball, tennis, bocce ball, and volleyball courts;
A sporting field for soccer, softball, and other field games;
More than 16 miles of community trails;
A fishing lake.
Martis Camp's luxury amenities are available year-round, although for most residents the development remains a vacation destination, especially during the summer months and ski season. Most owners come from the Bay Area.
Lots accommodate two types of homes.
Third-of-an-acre "cabin sites" are intended for homes up to 3,200 square feet, and prices for the land range from $550,000 to $900,000, according to one of Pacific Union International's top real estate professionals in the Tahoe/Truckee region.
"Estate sites" range from three-fourths of an acre to 3 acres, and land prices can go as high as $2.1 million.
Cabin sites with homes already built sell for $2.7 million to $3.2 million, while estate sites range from $3 million to $6 million.
"The amenities here are incredible, and so is the setting," our Tahoe/Truckee real estate professional said. "This is camp living in an elevated fashion."
(Photo courtesy of Martis Camp.)