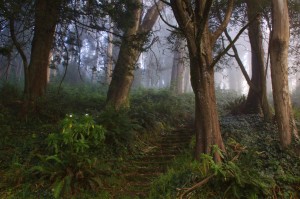 With its central location near public transit, freeways, and shopping, San Francisco's Miraloma Park neighborhood combines all of the peace and convenience of the suburbs with city amenities.
Nestled between Mount Davidson Park and Glen Canyon Park, Miraloma also gives residents easy access to nature and stunning views. A large concrete cross that sits atop Mount Davidson has become a San Francisco landmark and even appeared in the 1971 film "Dirty Harry," starring Clint Eastwood.
Neighborhood commerce centers on a Portola Drive shopping strip, formerly home to the fabled Tower Market gourmet grocery store. Mollie Stone's has since taken over the market, which still draws foodies to the neighborhood.
The center also features a Starbucks, Walgreens, and CVS Pharmacy, as well as several eateries, including neighborhood favorites Tower Burger and Taqueria Miraloma.
The 44-O'Shaughnessy and 36-Teresita bus lines serve Miraloma, which is also just a quick ride up the hill from the Glen Park BART station and Interstate 280.
About 2,200 families call the area home, and Miraloma even boasts its own neighborhood-improvement club with clubhouse.
In January the median price for a single-family home in Miraloma Park was $980,000, up 22 percent from $805,000 a year earlier, according to MLS data. As in much of San Francisco, the market continues to favor sellers strongly: In January the months' supply of inventory (MSI) in the neighborhood came in at just 0.4.
"Miraloma Park has something for everyone," user BrendaR wrote on Pacific Union's Miraloma Park neighborhood reviews page. "This community boasts 80s box homes, Tudors, mid-century moderns, Spanish Mediterraneans, and many more.
"(And) on any one day you can experience three types of weather. For example, along the ridge the wind might be howling with a nice sun and fog mixture, west of Teresita the sun is shining, while down on the east side closer to Glen Park the sun is even more powerful and 5-10 degrees warmer."
(Photo: Flickr/LOLO Italiana)