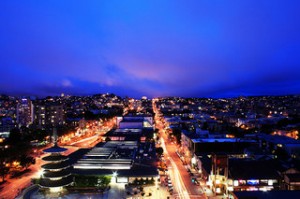 Sometimes overshadowed by its older sibling to the north, centrally located Lower Pacific Heights has its own unique charms. Easy access to the city's urban core, an eclectic mix of restaurants and shops, and classic San Francisco architecture are just some of the reasons that home prices in the neighborhood are on the rise.
Bordered by California Street to the north and Geary Boulevard to the south, Lower Pacific Heights offers its residents an easily walkable commute to the Financial District and many downtown office buildings. Buses — including the 1-California, 3-Jackson, and 38-Geary lines — run often and bisect the neighborhood's western and eastern boundaries of Presidio Avenue and Gough Street respectively. Drivers can access Highway 101 and Interstate 80 less than two miles directly to the south.
For a relatively small neighborhood, Lower Pacific Heights offers a surprisingly diverse array of dining, entertainment, and shopping options within just a few blocks walk.
The tiny enclave of Japantown packs in more than 50 restaurants and sushi bars, ranging from high-end eateries, such as Kappa, to establishments where $10 (tip included) will cover lunch. If you're in the mood for post-dining entertainment, you can find it a few blocks away at the Sundance Kabuki Cinema, one of just six movie theaters in the country affiliated with the film festival of the same name.
Fillmore Street, considered the neighborhood's main drag, is home to two restaurants on the San Francisco Chronicle's Top 100 Bay Area restaurants list: SPQR and State Bird Provisions. Music aficionados will appreciate close proximity to concert venues The Fillmore and Boom Boom Room, while shoppers will enjoy browsing Fillmore's many trendy boutiques.
"Lower Pacific Heights seems like a mix of everything you could want," user Jcristinal wrote on Pacific Union's Lower Pacific Heights neighborhood reviews page. User Ntrench notes that "the commercial streets … are lined with a variety of shops, cafes, and ethnic restaurants offering accessible options for locals [as well as] a crop [of] fashion boutiques, wine shops, and bookstores."
Though technically located a few blocks north of the neighborhood's proper boundaries, Lafayette and Alta Plaza parks stand out as nearby urban sanctuaries where visitors frequently can soak up the sun. Both feature tennis courts and playgrounds, and the sunset views of San Francisco Bay and Alcatraz Island are more than a bonus.
The architectural style of Lower Pacific Heights properties ranges from stately Victorians built in the early 1900s to more recently constructed multi-family units. Historic Cottage Row is home to a block-long stretch of late nineteenth-century houses situated along a pedestrian promenade and adjoining a miniature park.
Median single-family home prices in the neighborhood topped $2.6 million in May 2013, a 77 percent hike from a year ago. Lower Pacific Heights homes for sale are also in high demand; since the beginning of the year, 71 percent of single-family homes have sold or are under contract.
Interested in learning more about Lower Pacific Heights? Check out more reviews here.
(Image courtesy of Justin Ennis, via Flickr.)