Every Friday, Pacific Union International takes a look at what's new and notable in our Bay Area neighborhoods. Here's what we've got for the week ending May 4, 2012: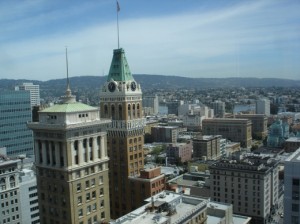 ALAMEDA COUNTY
Happy Birthday to you, Oakland! Today, May 4, marks 160 years since Oakland was incorporated as a city. The city had a number of events scheduled to commemorate the occasion, all in and around City Hall: birthday cake, live music, a presentation of the winners of the "Inspire Oakland" billboard, and more. It was a super birthday party!
CONTRA COSTA COUNTY
Do you ever wonder what your clothes say about you? On display in Walnut Creek's Bedford Gallery, "Outfitters: The Contemporary Art of Clothing" delves into the relationship between the clothes on our back and who we are underneath. The exhibition showcases the work of more than 20 artists and is scheduled to run through May 13.
MARIN COUNTY
Marin County is certainly familiar with mountain biking, but the sport will cover new ground in Marin this weekend. On Sunday, more than 500 riders and more than 1,000 supporters are expected at the NorCal High School Cycling League's championship event at Stafford Lake Park in Novato. Not only is this the biggest race in the most popular league for local high school riders, but it will mark the first time Marin has hosted the event. Lots of luck to all!
SAN FRANCISCO
Last weekend, a restored San Francisco landmark reopened. Built in 1905 to pump water to Stow Lake, the Murphy Windmill had been in a sad state of disrepair since as long ago as World War II. Both the head of the San Francisco Recreation and Park Department as well as Dutch Consul General Bart van Bolhuis spoke at the windmill's opening, which was scheduled to coincide with the Dutch national holiday celebrating the queen's birthday. Welcome back, Murphy Windmill!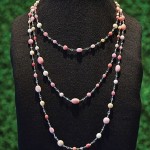 NAPA COUNTY
There is something special about St. Helena; we know that. Which is why we're not surprised to hear there is something extra-special to be found there. Currently on display at AF Jewelers is a double-strand, 86 Queen Conch pearl and diamond necklace. Queen Conch pearls are so rare that the odds of discovering one are reportedly 1 in 10,000. And the chances of finding a pearl with gem qualities among those odds are considered less than 10 percent. Pretty incredible.
SONOMA COUNTY
Where to start with Sonoma County this weekend? From walkers, runners, and cyclists to an annual festival, there's all kinds of action on tap. The Human Race walk and run, the Santa Rosa Cycling Club's annual Wine Country Century, and the Cinco de Mayo Festival in Roseland are all scheduled this Saturday. There are minor road closures and there could be some crowds, but best of all: forecasts are predicting great weather for the weekend.
(Oakland image courtesy of oaklandlocal.com; Queen Conch pearl image courtesy of napavalleyregister.com)