Every Friday, Pacific Union will take a look at what's new and notable in the Bay Area neighborhoods that constitute our neck of the woods. Here's what we've got for the week ending April 13, 2012.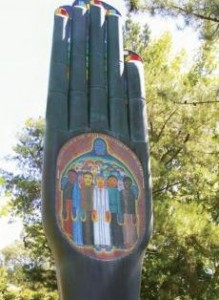 CONTRA COSTA COUNTY
The "Hand of Peace" has been extended to Walnut Creek. The nearly five-ton sculpture by famous Italian-born artist Beniamino Bufano has been offered to the city for the next 25 years and is likely to be installed in downtown Walnut Creek's Civic Park.
ALAMEDA COUNTY
There are a lot of changes in store for Berkeley with the likes of the Downtown Area Plan and other initiatives. One such proposal is for the Acheson Commons, which would not only create 205 new residential units as well as above-ground retail, but would revamp the city block along University Avenue, Shattuck and Walnut streets, and Berkeley Way.
WINE COUNTRY (NAPA AND SONOMA)
Action! The 15th Annual Sonoma International Film Festival got rolling this week. Slated to run until Sunday, the festival includes more than 120 films from 29 countries being screened at a number of different venues in town. From the small independent films to international releases, a selection of shorts films focusing on women, and the undeniable food offerings and ambiance of Sonoma, it's sure to be a hit.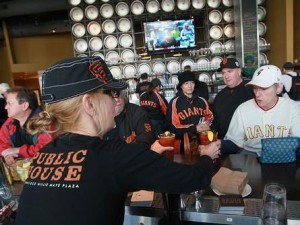 SAN FRANCISCO
Play ball!  Heading to any games of the San Francisco Giants opener at AT&T Park this weekend? We're thrilled the orange and black (and beards) are back, and are already thinking about where to head out after the game. Fortunately there is a substantial selection of places to sip and sup around the ballpark, because win or lose, we're never quite ready to head right home.
MARIN COUNTY
There is a great disturbance in the Force.  After a number of obstacles turned too great to overcome, Lucasfilm reportedly must move on from its Grady Ranch project in Lucas Valley.  The production schedule simply can't take on additional delays, and the unfortunate decision was met with outpourings of dismay and support from a number of residents.

("Hand of Peace" image courtesy of insidebayarea.com, Public House image courtesy of pressdemocrat.com)