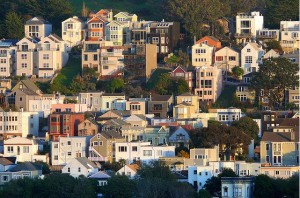 Next week, Pacific Union International will release third-quarter results for our Bay Area real estate markets. The data shows clearly that housing is rebounding, with home values rising, foreclosures dropping, and housing starts increasing.
We're also seeing bidding wars, a phenomenon absent since the real estate boom of the last decade. The following special report on bidding wars will appear in our Quarterly Real Estate Report, but here's an early look at it.
Throughout 2012 we've seen continued improvements in our housing markets, and our predictions of enjoying the best real estate year in the Bay Area since 2006 seem to be coming true.
The third quarter has also brought the re-emergence of another characteristic of the heights of Bay Area real estate: bidding wars.
Multiple offers on desirable properties have become common, and the bidding wars that result can test the nerves of the most seasoned real-estate veteran.
Sellers in many Bay Area regions may receive 10 to 20 competing offers for a well-priced home; some homes are even luring 30 offers.
Our regions experiencing the most bidding-war activity in Q3 included the East Bay, Contra Costa County, Marin County, San Francisco, and Sonoma Valley. Sonoma County as a whole saw moderate numbers of multiple offers. Napa County and the Tahoe/Truckee area had the fewest bidding wars.
THE LAW OF SUPPLY AND DEMAND
A robust economy, a skyrocketing housing market, and waves of tech dollars flowing from Silicon Valley spurred bidding wars during the real estate boom of the last decade. Today's bidding wars owe more to the laws of supply and demand: too few homes on the market for too many eager buyers.
After years of stagnation, the pent-up demand for homes in the Bay Area today is palpable, fueled by historically low interest rates, economic growth, and an increasingly expensive rental market.
The problem: There's precious little to buy.
Prospective sellers are waiting on the sidelines, unwilling or unable to enter the marketplace. More than a quarter of all Bay Area homeowners today remain underwater, owing more on their mortgages than their properties are worth. Others won't sell because they don't have enough equity yet to buy another home, or are holding out for higher price points.
This reluctance has driven down the supply of housing inventory across the Bay Area, which usually averages four to six months, to below two months in many regions. Cue the feeding frenzy, as hungry buyers compete against each other to land one of those homes.
THE POSITIVE SIDE OF BIDDING WARS
Bidding wars can be great news for sellers who price their properties appropriately.
One of our real estate professionals recently helped a Bay Area client sell a home that attracted 27 bidders after just one week on the market.
"The seller was completely taken aback by the interest in the property," our real estate professional said. "We had to be careful with the pricing, but the market was hurting for inventory."
The home was offered at $417,000, slightly higher than comparable homes in the area. The eventual winning bid came in at $485,000 — much of it in cash. The final selling price nearly matched what the owners paid in 2009.
Looking ahead, multiple offers will likely stay on the scene for a year or more, although gradual increases in home values will bring more homeowners above water and back in the market.
BIDDING — AND WINNING
Meanwhile, although it can be frustrating for buyers to compete in a bidding war, it's not necessarily a losing proposition. To improve your odds:
Get pre-approved – not just prequalified — for a loan, and offer the highest price you can.
Make the highest down payment you can afford, and offer more cash if possible.
If you are pre-approved and time permits, consider doing inspections in advance of your offer. The seller would likely respect your intent — and you may then consider waiving any unnecessary contingencies to expedite the process.
Don't forget the personal touch: A "buyer's letter" that lets the seller know how much you love and want the home can often spell the difference between two similar offers.
And listen to the real estate professional representing you. He or she has unique knowledge about the neighborhoods and homes you're evaluating, as well as expert insights into market conditions, and can give you valuable advice to tip the scales in your favor.
(The Bernal Heights neighborhood photo above is courtesy of J.G. in S.F., via Flickr.)