Two reports released last week by the research firm RealtyTrac neatly explain some of the unique characteristics of the Bay Area's real estate markets.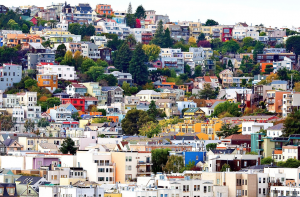 One of the reports found that the median home price in the San Francisco-Oakland-Fremont metro area spiked 38.6 percent over the past two years, while average wages rose 7.1 percent. That helps explain why many Bay Area residents, especially first-time buyers, may feel they're being priced out of some of our regional markets.
But a separate report puts those numbers in perspective, revealing that the San Jose-Sunnyvale and San Francisco-Oakland metro areas rank first and third in the United States, respectively, for highest weekly wages. That helps make pricey homes more affordable in the Bay Area than just about anywhere else.
The reports concluded that the Bay Area is hardly alone in facing sticker shock. Overall, home price appreciation outpaced wage growth in 76 percent of U.S. housing markets over the past two years, with average weekly wages rising 1.3 percent and home prices climbing 17.3 percent.
San Francisco-Oakland's 38.6 percent growth in home prices was second highest among the nation's 10 largest metro areas, following Detroit, which shot up 57.1 percent. San Jose-Sunnyvale placed 13th among all U.S. metro areas, with home prices up 33.3 percent.
When looking at wages, the Bay Area is clearly the place to be. Our unrivaled mix of tech industries help make San Jose-Sunnyvale home to the highest wages in the United States — $1,868 per week, on average, or $97,136 a year, a gain of 8.3 percent over the past two years, according to data obtained from a RealtyTrac press representative.
Wages in San Francisco-Oakland are the nation's third highest: $1,394 per week, or $72,488 per year, up 7.1 percent. In between, at No. 2, is Bridgeport-Stamford, Conn., with wages averaging $1,455 per week, or $75,660 per year, up 2.2 percent over the last two years.
"Home prices in many housing markets across the country found a floor in 2012 and since then have rapidly appreciated, particularly in markets attracting institutional investors, international buyers or some other flavor of cash buyer not constrained by income as much as traditional buyers," Daren Blomquist, RealtyTrac vice president, said in a statement accompanying the home prices and wages report. "Eventually, however, those traditional buyers will need to play a bigger role in the housing market for the recovery to maintain its momentum.
"Those markets with the biggest disconnect between price growth and wage growth during the last two years are most likely to see plateauing home prices in 2015 until wages catch up," Blomquist said.
(Photo: Flickr/Thomas Hawk)