Would you like your home to be bigger? Maybe another bedroom or bathroom, a larger kitchen or family room? You're not alone.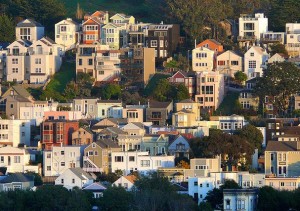 Fully 43 percent of Americans said they would prefer to be living in a bigger home than their current residence, according to a recent poll, while 16 percent would rather downsize and 40 percent are happy with the amount of space they currently have.
Those preferences change markedly, however, depending on age, according to a recent survey of 2,000 Americans by analysts at Trulia.
The poll results reflect a dynamic we're seeing in the Bay Area.
Sixty percent of millennials — those ages 18 to 34 — said their ideal residence would be larger than where they live today, which makes sense considering that many millennials start their careers, and families, while living in cramped urban apartments. Only 13 percent said they'd rather have a smaller home than their existing one.
Baby boomers think differently, though the poll showed surprising results for this generation. Current talk suggests that boomers — ages 55 and higher — are fleeing their big, empty-nest homes, but the poll tells a more nuanced tale: 21 percent preferred a smaller home, but 26 percent were still looking for something bigger. Fifty-three percent, meanwhile, said they wouldn't change a thing.
In between, both in age and preference, is Generation X. Among those aged 35 to 54, nearly a majority, 48 percent, said they would prefer a bigger home, with only 14 percent looking for something smaller.
Trulia analysts said that the Gen X results reflect that fact that homeowners in this age group bore the brunt of the recent housing crisis, and many were forced into smaller homes. Then again, Gen X households are also crowded with teenage children.
In the Bay Area, poll results are reflected in millennials living in urban rental units and condominiums in San Francisco and Oakland, with more families and older, more established residents in larger homes in suburban regions.
"Households must make tradeoffs between things like accessibility, amenities, and affordability when choosing what size homes to get," Trulia noted in a summary of its poll results. "The 'ideal' sized home for most Americans may be larger than where they're living now. But that spacious dream home may not practical.  As result, the mismatch between what Americans say they want and what best suits their circumstances may persist."
(Photo: Flickr/James Gaither)