Moving into a new home? Congratulations! But how trustworthy are the movers who will be transporting your worldly possessions?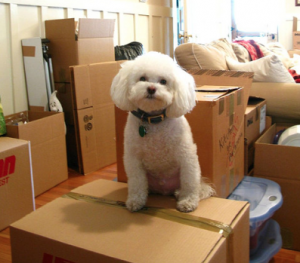 Most moving companies are reputable, of course, but you will greatly reduce your chance of trouble by learning as much as you can about prospective movers and choosing carefully.
Consumer Reports recommends that you get recommendations from friends, family, or reliable real estate professionals. Whenever possible, don't rely on newspaper, phone-book, or online ads for the names of movers. And plan to get estimates from at least three companies.
Insist on receiving licensing information, and use a mover that has a marked truck and puts everything in writing, Consumer Reports warns. Avoid movers that require large upfront deposits, and check with your local Better Business Bureau for any complaints against companies.
In California, moving companies are regulated by the state Public Utilities Commission, which maintains a website with moving tips and an exhaustive mover's guide.
The PUC also makes available a summary of recent investigations of moving companies. The latest update, which covers the first quarter of 2014, notes more than two-dozen enforcement actions against companies that failed to get proper state licenses or engaged in fraudulent activities, including five movers in the Bay Area. The PUC said it helped consumers get refunds totaling more that $21,000 from moving companies.
The office of the California attorney general has good advice, too, including a summary of factors that determine moving charges, such as distance, travel time, volume and weight of the load, declared value, and additional services requested, such as packing, storage, and unpacking of goods.
Also, visit the U.S. Department of Transportation's Protect Your Move website, which is packed with solid moving advice, including a list of 12 "red flags of moving fraud," a summary of consumer rights and responsibilities, advice how how to search for registered movers and complaint histories (only for interstate movers), and tips for handling lost or damaged goods. Additionally, the agency has published a Moving Fraud Prevention Guide, available in multiple languages.
It's also worth checking the website of the American Moving & Storage Association, an industry group that publishes a code of ethics for its members and professes to actively work to drive scammers and con artists out of business.
The bottom line: Get as much information as you can before you hire a mover. And if you feel that you've been scammed, immediately contact the PUC, the Better Business Bureau, and your local consumer-protection agency.
And good luck with your move!
(Image: Flickr/Mbtrama)