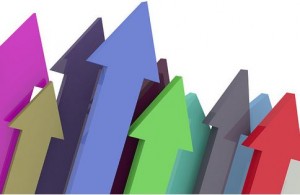 Just how strong is California's economic recovery?
Strong enough that the state will pull past Italy and Russia by the end of 2013 to stand alone as the eighth-largest economy in the world.
California was tied with Italy and Russia for eighth-largest economy in 2012, but the state has enjoyed strong job gains and a rising  gross domestic product (GDP) this year while Europe remains mired in recession, according to Stephen Levy, director and senior economist of Center For Continuing Study of the California Economy.
GDP measures the value of all economic goods and services, and California, Italy, and Russia each posted a GDP of $2 trillion in 2012, Levy said in a new report. The United States remained the world's largest economy, with a GDP of $15.7 trillion, followed by China ($8.2 trillion), Japan ($6 trillion), Germany ($3.4 trillion), France ($2.6 trillion), the United Kingdom ($2.4 trillion), and Brazil ($2.3 trillion).
California's huge economic impact has long been recognized by economists, but Levy's report also highlights the value of the state's regional economies.
The Bay Area, for example, had a GDP of $594 billion in 2012, making it the 20th largest economy in the world, between Switzerland and Sweden. The GDP of the Los Angeles Basin was measured at $925 billion, making it the 16th largest, between South Korea and Indonesia.
Levy noted that California tied with Minnesota for the fifth fastest rate of GDP growth in 2012 after five years of below-average gains.
In an earlier report, Levy said the Bay Area leads California in job growth, adding 100,000 new jobs over the past year while reporting the lowest unemployment rates in the state.
It's this kind of economic growth that helps boost buying power in real estate markets and fuels optimism here at Pacific Union that 2013 will continue to attract both homebuyers and sellers and generate strong, sustained market growth.
(Illustration courtesy of FutUndBeidl, via Flickr.)