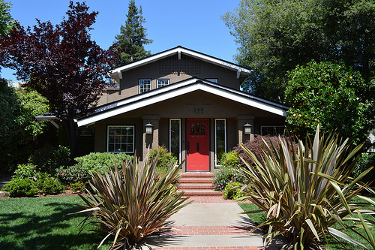 Tales of newly minted tech millionaires scooping up pricy homes have become par for the course in the Bay Area of late. But wealthy homebuyers from China also play an increasingly key role in our luxury housing markets – and Pacific Union has launched a groundbreaking China Concierge Program to serve that demographic, while also giving its Northern California clients access to a new set of buyers.
"The Chinese buyer pool tends to be very interested in purchasing property for multiple uses," Pacific Union CEO Mark A. McLaughlin says. "It could be for personal use – they want to move their family into a great city with a great school district – or a series of investment choices.
"What's becoming equally common is buying a property five to seven years ahead of an actual need and saving it for when their children attend Bay Area private schools and college," McLaughlin says. "This phenomenon and long-term hold strategy could have a further impact on restricting resale inventory, thereby driving price-per-square-foot dynamics to new record levels."
Bay Area Market Conditions

For many months, competition for Bay Area residential real estate has been nothing short of sizzling, with multiple bids commonplace in San Francisco, Marin County, the East Bay, Silicon Valley, and many other communities.
Homes in some popular San Francisco districts are commanding an average of 121 percent of their asking prices, and a growing number of all-cash deals are pushing many would-be buyers out of the market.
"(Homebuyers from Asia) increase buying pressure because we are seeing all of these people who flush their money into our market," says one of Pacific Union's top Silicon Valley real estate professionals, who works frequently with Chinese buyers. "That brings in this intense competition."
Chinese Buyers in Silicon Valley, San Francisco

For many well-heeled Chinese buyers, the U.S. housing market remains somewhat of a bargain and represents an attractive opportunity for investment or purchasing second homes for themselves or primary residences for family members.
During the housing crisis, Chinese homebuyers increasingly looked to the U.S. for real estate deals. That interest has continued to grow, in part thanks to comparatively lower costs per square foot in major U.S. metro areas compared with those in China, as well as concerns over potential new taxes and inflation in China.
China's average price per square meter for desirable urban housing clocks in at just under $7,000 ($644 per square foot), compared with nearly $15,300 in the U.S. ($1,420 per square foot), investment site Global Property Guide reports.
However, prices for luxury properties in cities like Beijing and Shanghai can outpace U.S. numbers, experts say. That's true even in expensive places like San Francisco, where luxury real estate sold for an average of $829 per square foot last year, according to Christie's International Real Estate's 2013 luxury homes report.
Meanwhile, Hong Kong's luxury real estate market was the second most expensive in the world, with an average price per square foot of $2,578, Christie's said.
Chinese buyers trail only Canadians as the most frequent foreign investors in U.S. residential real estate, with most purchasing homes in California, according to a 2013 National Association of Realtors report.
With its excellent public schools, rapidly growing property values, and proximity to Stanford University, Palo Alto has become ground zero for buyers from Asia; San Francisco, Los Altos, Atherton, Cupertino, and Hillsborough follow close behind, according to David Barca, vice president of Pacific Union's Silicon Valley region.
One wealthy Asian buyer found the town of Atherton so appealing that he reportedly bought three lavish $20-million-plus homes there between August 2012 and February 2014, Barca says.
Overall, the most popular price point for Chinese homebuyers seeking Silicon Valley properties has risen this year to about $3 million to $5 million, up from around $2 million to $3 million in 2013, our real estate professional says.
Whether looking in San Francisco or Silicon Valley, the latest wave of Chinese buyers wants new construction and large lots, she notes, adding, "In their mind, a house that's 10 years old is already old.
"And in (the Chinese) value system … the value is in the land not in the home. A bigger lot is very, very attractive."
The Future of Chinese Investment in the Bay Area
In San Francisco, wealthy Chinese buyers have increasingly relied on representatives to scope out homes and close deals for them, Pacific Union President Patrick Barber says.
"The Asian buyer, the Chinese buyer, has always been important to our marketplace," Barber says. "But certainly the Chinese buyer having a representative purchase properties sight unseen is a shift we hadn't seen before."
And the influx of Chinese wealth goes beyond real estate. Barber says his contacts at luxury-car dealerships in the city have reported "a huge influx of young college-age Asian children who are being educated at University of San Francisco, Berkeley, and Stanford and have big budgets."
So is the trend likely to continue? The potential for even greater Chinese investment in Bay Area real estate remains huge, experts say.
Indeed, the latest Hurun Global Rich List showed that China is home to 358 billionaires, trailing the U.S.' No. 1 ranking by just 123 individuals. San Francisco has become one of the top cities where the ultrarich seek to put down roots, the report noted.
Pacific Union's China Concierge Program
 In response to that growing demand, Pacific Union launched its China Concierge Program last year.
The white-glove initiative remains unique in the Bay Area and U.S. real estate markets, offering clients in mainland China a single point of contact for a myriad of services to help them buy investment properties in Northern California and parts of Nevada — or relocate to the area.
Those services include real estate market analysis; identification of available luxury estates, single-family homes, condominiums, vineyards, and commercial properties; assistance with purchasing a property and obtaining financing; and help with immigration and tax attorneys and visas.
Pacific Union's commitment to this demographic puts the company at the forefront of U.S. residential real estate and offers local clients invaluable exposure to powerhouse buyers.
In December CEO McLaughlin traveled to Beijing to attend an exclusive meeting with 10 of the country's wealthiest real estate investors. McLaughlin, the only attendee representing a U.S.-based residential real estate firm, called the U.S. Embassy event "an experience of a lifetime."
"I am humbled by the stature and heritage of Pacific Union's great brand, and its acceptance and performance here in China," McLaughlin said. "While our competition promotes international reach through websites, Pacific Union is alone in going the extra mile for our clients both in Northern California and in China."
(Image: Flickr/Daniel Hartwig)